OUR QUALITY policy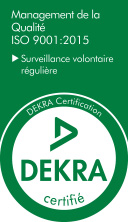 In 2017, OLEXA® was proud to receive the ISO 9001:2015 certificate from Dekra for its quality management system.
What is ISO 9001:2015 certification?
ISO 9001:2015 is an international standard used worldwide as a measure of quality. It sets the criteria that a quality management system must meet. Today, ISO 9001 is implemented in more than one million companies and organizations in over 170 countries. In December 2017, our quality management system was subjected to an independent assessment and awarded this prestigious certificate.
What does this mean for OLEXA®?
First of all, this certificate helps us to remain dedicated to the customer, to maintain the motivation of all staff and to continue to develop our company. On the other hand, the certificate demonstrates to our potential customers that we take quality management very seriously and use it on a daily basis to further develop our professionalism and to be a reliable long-term partner.
A commitment for our customers
ISO 9001:2015 helps us to guarantee our customers consistently high quality products and services. In business, the benefits are many and obvious. We will continue internal and external audits to test our internal processes, and we will use the results to continue to improve.
The certificate is a beginning rather than an end. We use the quality management system to monitor and improve our processes. The ISO 9001:2015 guidelines and quality standards are our guides to becoming an even better partner, now and in the future.